We can't host the annual History Honors Symposium this evening as originally planned, but we're excited to share the work of some of our students via social media! Stay tuned for work on pockets, Senate politics, Santa Fe, and the sad history of blackface at @IUBloomington. 1/x
---
Our first panel is Power, Protest, Politics.
Lauren Schumacher @lauren_schu is a History major from Traverse City, Michigan. Her Honors paper addressed the perennial question "Why do men's clothes have so many more #pockets than women's?" 2/x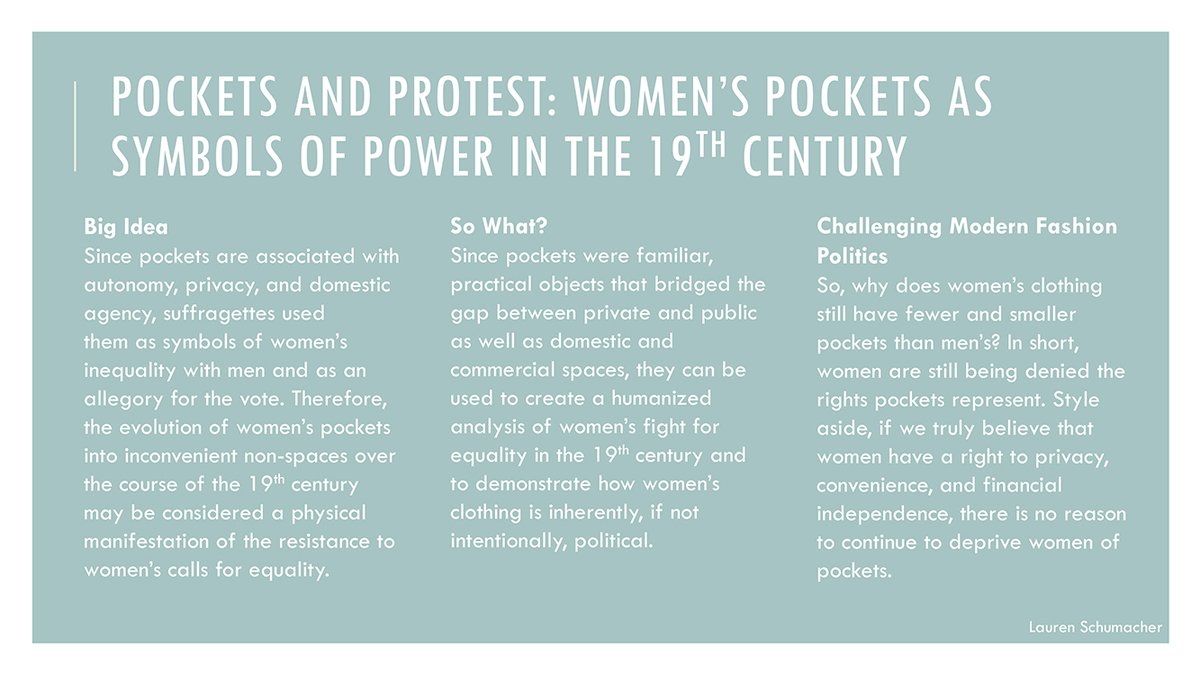 ---
In her research, Lauren Schumacher discovered that pre-nineteenth-century women's pockets were capacious and an article of clothing in themselves! (cc @ArianeFennetaux) 3/x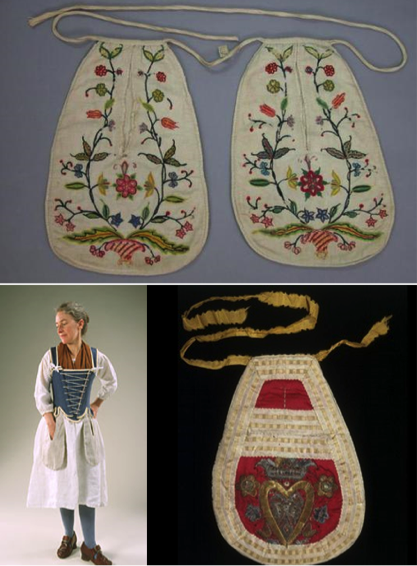 ---
---
The suffrage activist Alice Duer Miller even wrote a satirical poem "Why We Oppose Pockets for Women" (1914) to emphasize it was as preposterous to deny women the vote as it was to make their clothes without pockets.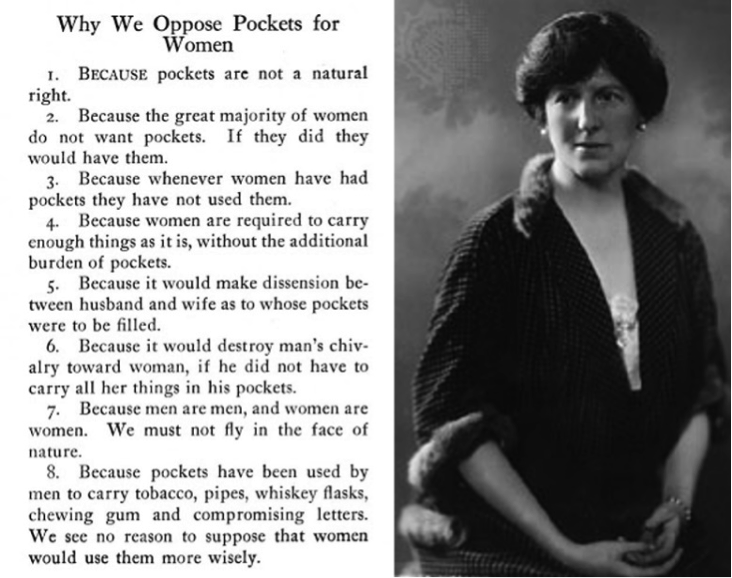 ---
Our next paper is by AJ Boyd (@historicallyaj), "Seizing the Moment: African American World War II Activism from 1941-1943." AJ is double majoring in History and AAADS, with minors in Spanish and Human-Centered Computing.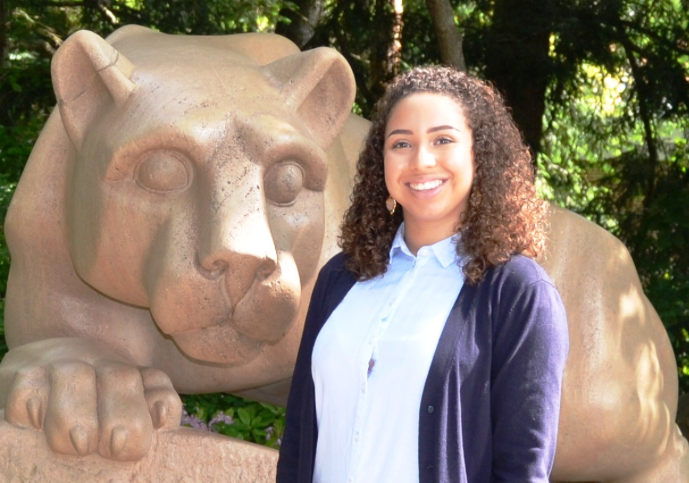 ---
In her research @historicallyaj explored how African Americans used the circumstances of the Second World War to their advantage in their struggle for civil rights through crusades like the Double V Campaign and the March on Washington.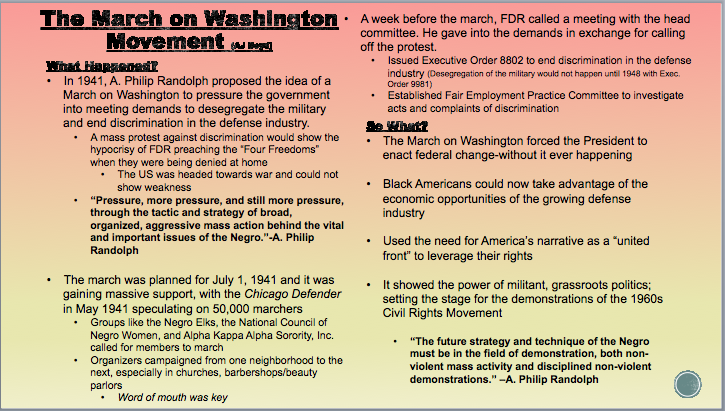 ---
@historicallyaj was especially intrigued by the "March on Washington Movement" because it's so little known. Yes, everyone knows 1963's March on Washington, but this one was the blueprint, it even featured some of the same players: A. Philip Randolph! (historicaldiaries.com/2019/02/08/an-…)
---
As @historicallyaj found in her research, many African American institutions in the 1940s were skeptical of mass protest. The _Pittsburg Courier_, a prominent Black newspaper, was blatant in its disapproval of a March on Washington.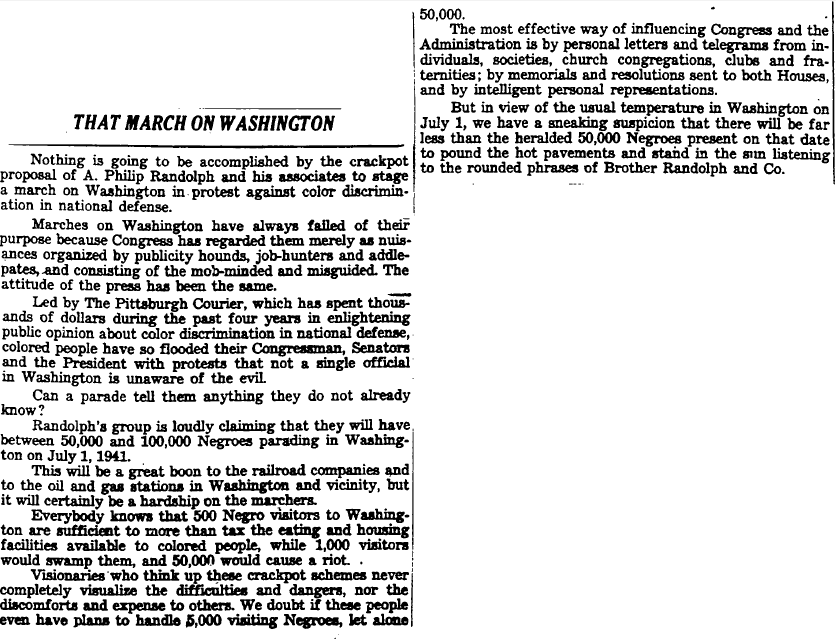 ---
Errata: we're so sorry, homonyms got the best of us. The first paper (the one about pockets!) is by @_lauren_schu and she's from Columbus, Indiana. Far, far better known for its architecture and engine manufacturers than Traverse City!
---
3rd paper in "Protest, Power, Politics" panel is by Lauren Meadows @IU_WellsScholar also majors in Political Science & Spanish. Her Honors paper "A Contest of Power: The Unintended Consequences of Senate Committee Reform" studied the Adlai Stevenson Reforms of the 1970s.
---
The Stevenson Reforms were a set of procedural reforms designed to "democratize" Senate committees, lessen the influence of senior party officials, and serve as an antidote to corrosive levels of partisanship in the Senate. (senate.gov/artandhistory/…)
---
Such reforms when put into practice often had opposite effect! Younger, more ideologically extreme members were elevated to high-ranking positions. The reforms generally proved ineffective at curbing partisanship--a lesson for all of us today, writes Lauren.
---
After graduation, Lauren Meadows will be moving to Washington, D.C. to take up a Junior Fellowship with the Democracy, Conflict, and Governance Program of the Carnegie Endowment for International Peace (@CarnegieEndow @CarnegieDCG).
---
The first paper in Honors Symposium "Place and Identity" panel is by @samreitenour. A History major from Cicero, IN, he is also completing the Certificate in @IUCLACS and a minor in Spanish. He intends to pursue PhD work in either History or American Studies.
---
@samreitenour's Honors Paper "History in the Present Tense: Architectural Ordinances and the Making of Santa Fe's Adobe Cityscape" looks at the production and meaning of Santa Fe, New Mexico's supposedly "characteristic" adobe architecture. (santafe.org/Visiting_Santa…)
---
@samreitenour writes "Santa Fe's rigid system of architectural ordinances has curated a "historic" adobe aesthetic that serves the needs of tourists and newcomers, but... erases important elements of the city's history."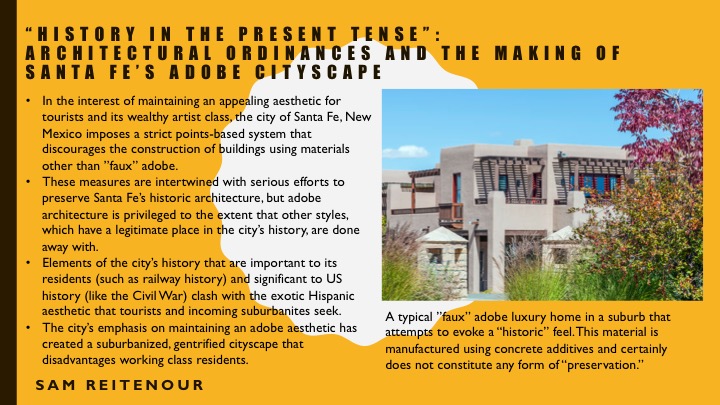 ---
@samreitenour's research shows the Civil War monument in Santa Fe's plaza has prompted contention because it isn't "exotic." Detractors claim it doesn't distinguish Santa Fe from other cities. But war memorials tend to look alike so that they can be recognized as memorials.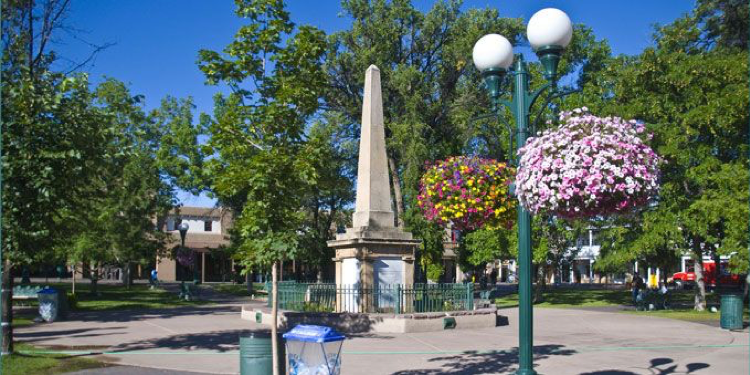 ---
Our next "Place and Identity" paper in the Honors Symposium is by Elizabeth Tully. From New Orleans, Louisiana, Elizabeth attended Mount Carmel Academy and is doing a double major in History and Germanic Studies. She plans to go to graduate school in History.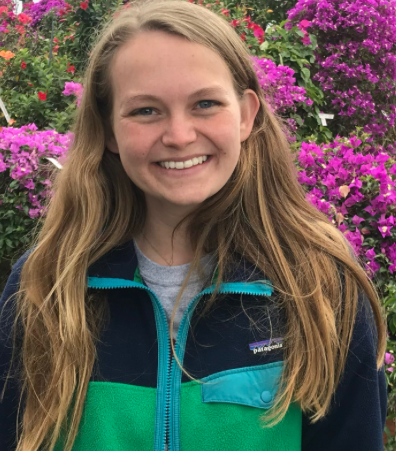 ---
For her Honors paper "The Palace of the Republic: space and identity in the GDR," Elizabeth Tully studied the parliament building used in the GDR ("East Germany") in the 1970s-1980s.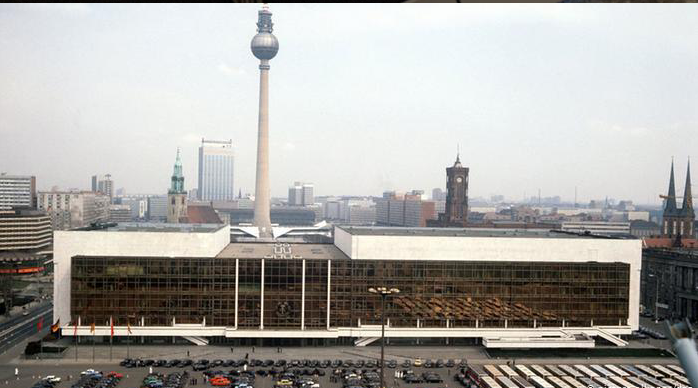 ---
Newspapers were one of her main primary sources. Many of the ones she needed have not been digitized, so she went "old school" and read them on a microfilm machine.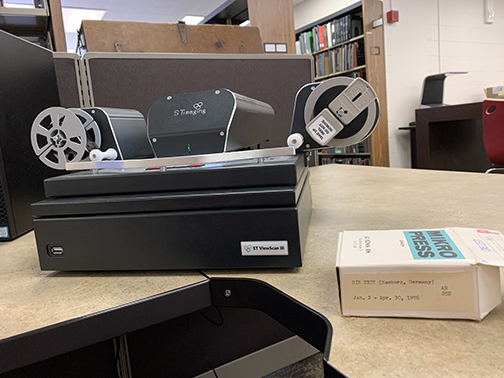 ---
Elizabeth found that _Neues Deutschland_ (the official GDR newspaper) described the Palace as a symbol of the regime and socialism while also providing fantastic, very materialistic images of the Palace's bowling alley, disco, restaurants, and coffee bar.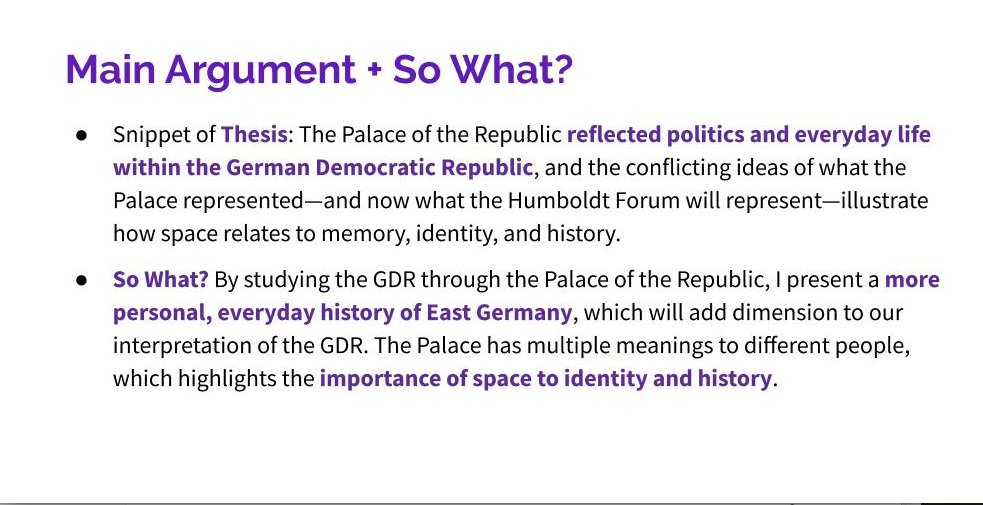 ---
Our final panel is "Political Culture and Cultural Politics." Ben Parnin is a History major from Fort Wayne, with minors in Medieval Studies, Game Design. His Honors paper was "18C British Society through Whist and Gaming." (en.wikipedia.org/wiki/Whist)
---
Cards had long been played for amusement but Ben Parnin argues that whist (a trick-taking game a bit like bridge or hearts) in the 1700s was an incredible fad, truly a societal craze.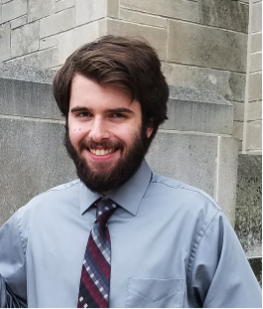 ---
To justify their participation in a game also played by women and commoners, male aristocrats developed an unofficial standard of proper and acceptable behaviors for whist players--behaviors that were both class and gender specific. Satirized in this 1743 play.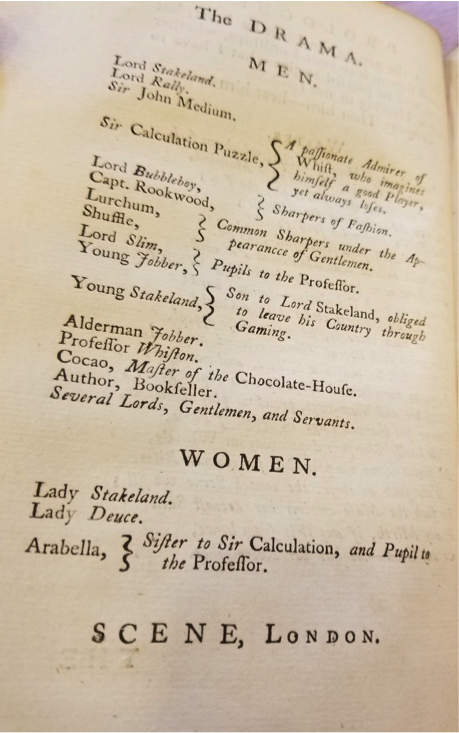 ---
The penultimate paper in tonight's on-line Honors Symposium is by Robert Mack (@RobertM84608873) a double major in History and Ballet from Irvine, California.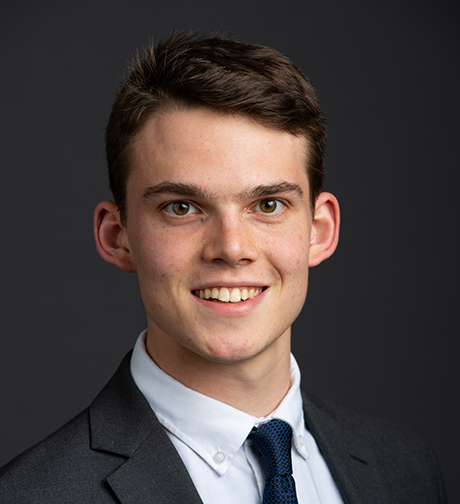 ---
@RobertM84608873 worked in the John Ford papers at @IULillyLibrary to write "John Ford's _Stagecoach_(1939) & Directorial Auteurship in Hollywood Studios." Unusual for the day, Ford filmed his masterpiece in Monument Valley with an independent producer.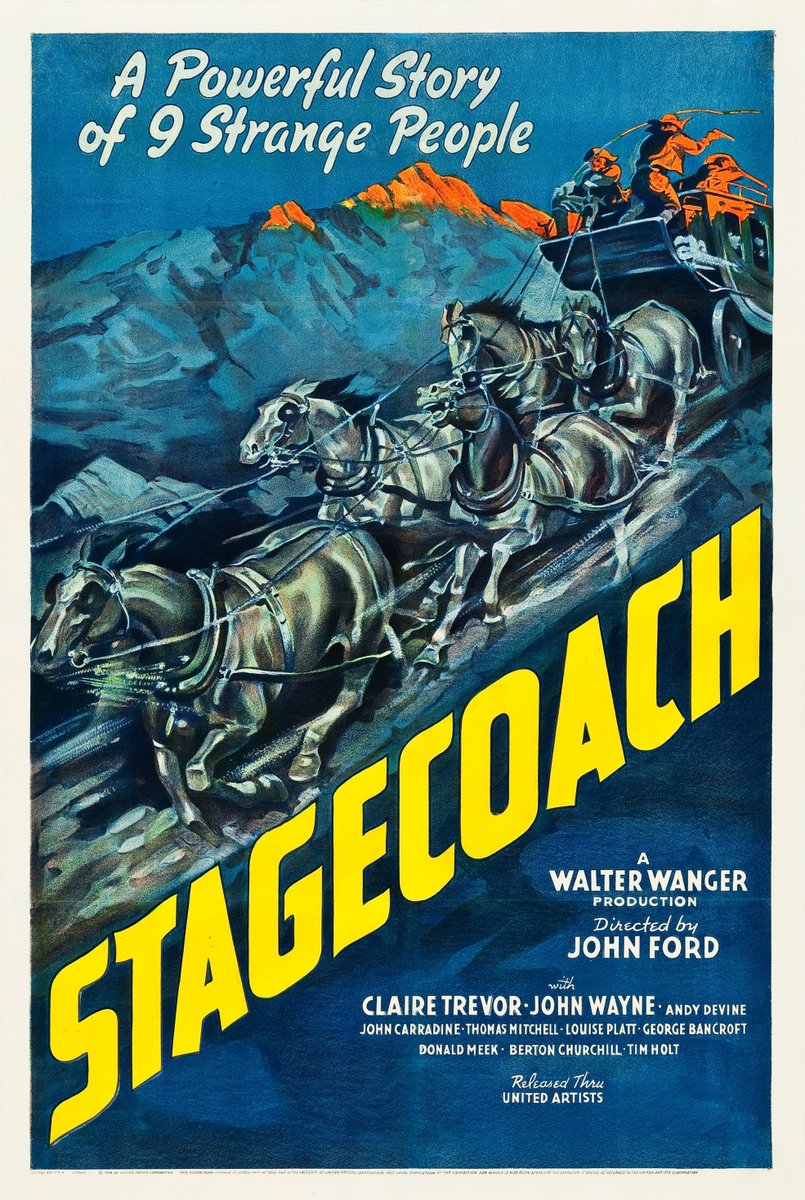 ---
The temperamental director thereby got away from meddling executives, cumbersome producers, and annoying agents who plagued him in Hollywood. The paper deepens our understanding of the power dynamics between directors and executives in the Golden Era of American film making.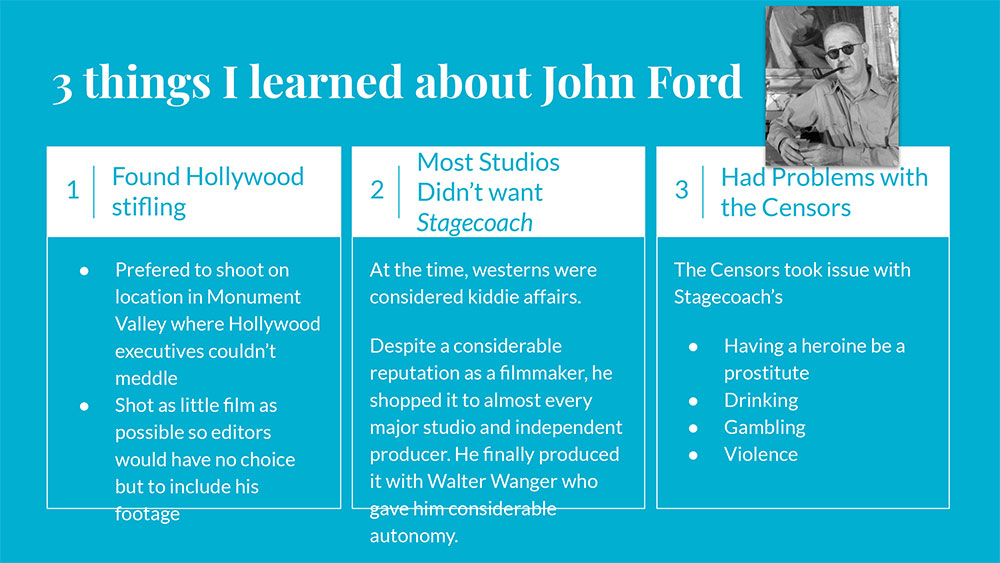 ---
The final Honors paper in tonight's Symposium is by Ellyn Mendenhall (@ellynmendy), a History and International Studies major from Indianapolis who is also completing minors in Spanish and Jewish Studies. Her paper won the inaugural Daniel F. Hewins Research Prize.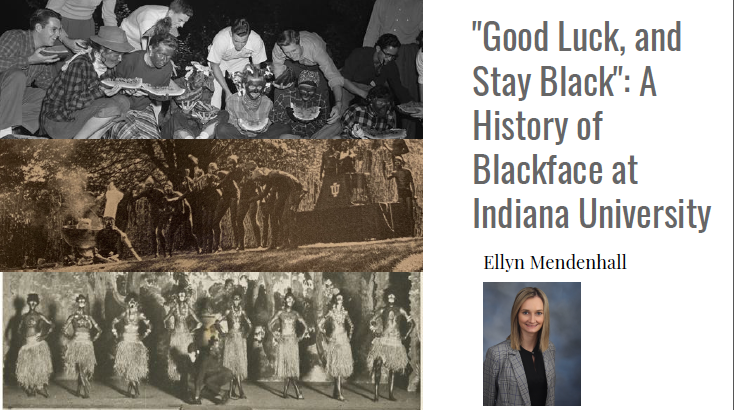 ---
@ellynmendy writes that she was motivated to study the history of blackface at IU by recent revelations about major political figures. "It's important to acknowledge both the good and bad about our own institution."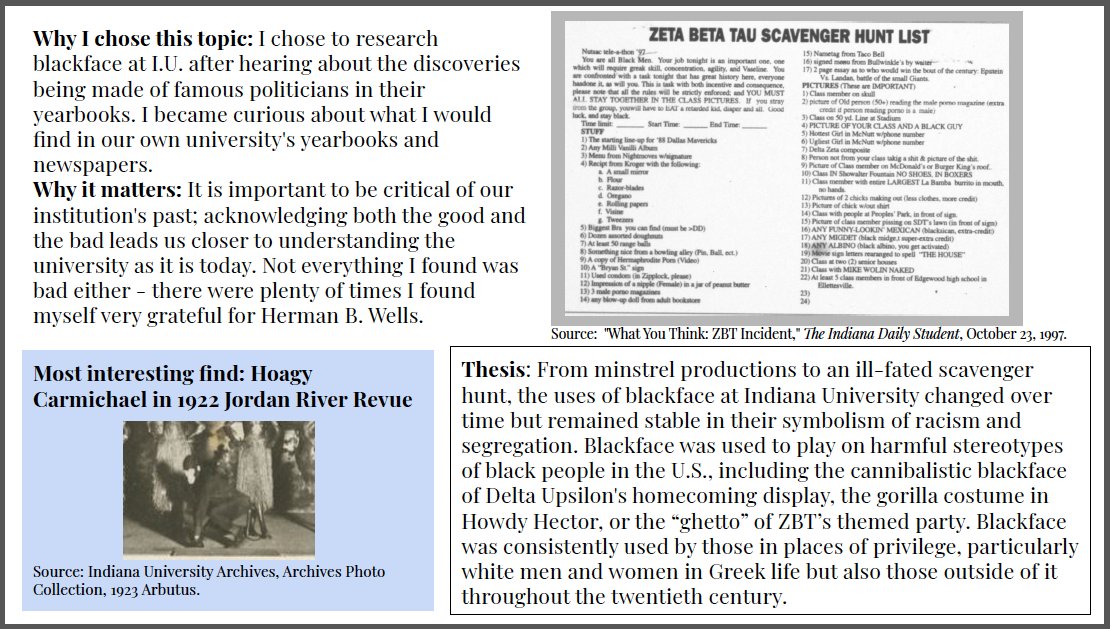 ---
This brings the History Honors Symposium to a close. We are sad not to have a group photo of this year's presenters. But since we're all interested in history, here's one of our Honors students who started this format. April 2016--it really feels a long time ago, doesn't it?